Kitchen Remodel Virginia Beach, VA

Living Room Remodel Virginia Beach, VA

Dining Room Remodel Virginia Beach, VA

Mudroom Remodel Chesapeake, VA

Sunroom Remodel Chesapeake, VA

Wet Bar Remodel Chesapeake, VA

Dining Room Remodel Chesapeake, VA

Outdoor Shower Addition Chesapeake, VA

Sunroom Addition Chesapeake, VA

Bathroom Remodel Suffolk, VA

Kitchen Remodel Chesapeake, VA

Bathroom Remodel Chesapeake, VA

Bathroom Remodel Norfolk, VA
About RC Industries, LLC
RC Industries is a full service Class A residential and commercial builder serving all of Hampton Roads Virginia. We specialize in remodels, additions, new construction, and all phases of design. Built on a foundation of trust and dependability, we pride ourselves on open communication and quality craftsmanship.
Our Services Include:
Remodeling / Renovations
Home Additions
Roof Installation
New Home Construction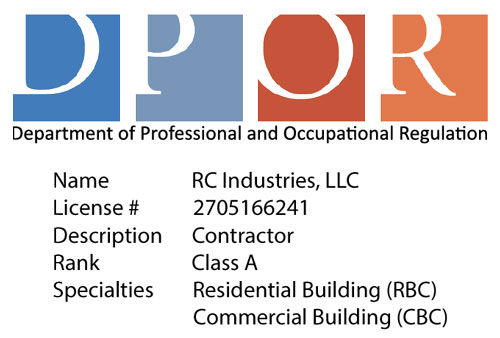 We Can Improve Your Home's Style, Functionality, and Efficiency.
Hear what our clients have to say!

Russell and his crew remodeled our bathroom and it turned out awesome. He worked out everything we threw at him and stayed on budget and on time. Russell was always available and very prompt.

Tyler T.
Norfolk, VA

The quality as well as their quickness on the job along with professionalism is rare in todays society. The attention to detail is rare and ensuring they are doing what is best for customer not the business is rare and admired. You would be highly satisfied after you hire them for your home projects.

Bill L.
Chesapeake, VA

On time, fast service and professional workmanship. Removed the old door and hardware and installed all new door and hardware. Great Job!!!

Diane C.
Chesapeake, VA

Very professional. Good quality work. Thorough and completed in a timely manner. All employees were professional.

Kari N.
Virginia Beach, VA

Great communication and the quality of work was outstanding! I love my new bathroom!

Whitney R.
Chesapeake, VA

Very personable on time and great communication during the performance of job

Ben H.
Portsmouth, VA

The owner Russell is an excellent man of faith and character. He does what he says he will do, and he does it with pride and professionalism.

Bruce D.
Virginia Beach, VA

Great company..Super efficient, prompt with timing and follow through. Cater to all your needs. Absolutely loved everything about them. Highly recommend.

Kendall H.
Chesapeake, VA

Amazing craftmanship... If you are looking for a professional who does amazing work in a timely manner this should be your number one choice!

Gracie M.
Virginia Beach, VA

Great to work with! Would advise anyone to go with RC Industries!

Joseph N.
Virginia Beach, VA